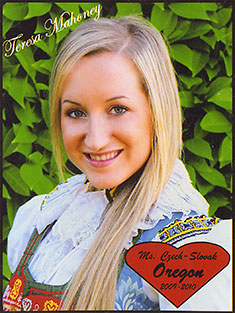 Teresa was born in Portland, Oregon. Her mother Daniela is a Czech native and her father Patrick is from Portland, Oregon. Since Daniela became a folk artist after coming to the USA in fall of 1982, Teresa was exposed to cultural crafts from her early childhood and decorated her first egg at the age of two. Teresa frequently accompanied her mother to various art and craft events where she was helping to sell not only her mother's egg art, but eventually her own when at the age of ten her artwork became of quality to sell. She was amazed that people were willing to pay for her artwork….However, Teresa did not enjoy all aspects of the "egg business" because of long work hours, low pay and a lot of stress teaching unruly children how to decorate eggs in outdoor settings. She frequently joked about developing a fear of "white tents" that were the landmark of art and craft outdoor events.
Teresa was a talented student excelling in visual arts, writing and languages first in the Portland French School and later in a parochial middle school and highschool in Portland, Oregon. Yet Teresa's childhood and adolescence were filled not only with joy and excitement, but also with sadness and fear. Her brother Patrick, two and half years her senior, was diagnosed autistic at the age of four and Teresa faced the challenge of interacting with him on daily basis never knowing what to anticipate since her brother's behavioral reactions were unpredictable. Because of Patrick, however, Teresa has developed patience and compassion for people with disabilities and as a teenager volunteered with Special Olympics of Oregon as a ski coach and as a camp councelor with Mount Hood Kiwanis camp that serves people with disabilities in Summer.
In spite of her own diagnosis with Crohn's disease, Teresa pursued her dreams of obtaining higher education and enrolled into Loyola Marymount University School of business in Los Angeles. She graduated with honors in 2009. Upon graduation she returned back to Portland to build her career in Marketing and business.
In Summer of 2009, to great delight of her mother, Teresa decided to search for her identity and chose to embark on the journey of self discovery by participating in the National Czech and Slovak Cultural Pageant. This was her second time around. The first time, in 2005, Teresa got a taste of the Pageant representing Oregon, but did not receive any awards. Now, in 2009, she felt better equipped to succeed in the quest for talent appreciation and awards. Dressed in a beautiful two hundred years old costume/dress from Nivnice in the Czech republic, Teresa presented a moving speech about none other than the EGGS.
Teresa's mother was seated in the audience and listened with amazement as Teresa addressed the audience with asking a "question that has baffled scientists and academics for years": Which came first – the chicken or the egg?" In one part of her speech Teresa stated:
"For as long as I can remember, the EGG came first, since the art of egg decorating has played a vital role in my family's livelihood. After my mother immigrated from the communist torn Czechoslovakia in 1980 and came to the United States in 1982 to marry my father, she decided to reconnect with the one thing that offered her comfort in a distant and unfamiliar land – her heritage. Her new life in America began with the egg. Not unlike many of our Czech and Slovak ancestors, decorating eggs was her first source of economic freedom in the United States. She humbly embarked on her entrepreneurial journey selling these ornaments on sidewalk corners and street fairs in Portland, OR. Today, her business flourishes with distribution across the country."
Teresa than offers a unique look into her own experience with the egg art: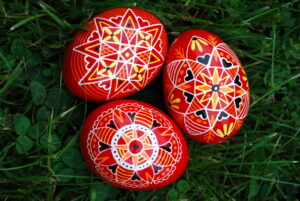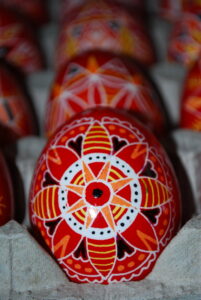 "As a curious and eager young child, I was entranced by this seemingly miraculous process. So at the ripe age of two, I begged and pleaded with my mother to make an attempt at this intriguiging activity. At her approval and under the guidance of her practiced hand, I finally alleviated my curiosity and drew a line on my very first hand-made egg".
Teresa concluded her speech by encouraging people to search for deeper meanings behind their customs and traditions, to be passionate about their heritage, to embrace it and to share it with the rest of the world. Teresa said: "Don't be afraid to stand out in a crowd…..We must be proud of where we came from, because in the long run, it will guide us to where we want to go….Though I am a first generation American living in the United States, I will never forget who I am and where I came from: I am an artist, I am Czech and I am proud!"
People in the audience applauded, Teresa's mother cried touched by Teresa's statements about her deep connection to her roots and heritage.
Teresa won the first prize for her moving speech and also received an award for the best traditional costume. Overall, Teresa became the First Runner Up, as she placed second in the pageant. Her mother joked saying that Teresa became the "vice queen". That evening changed Teresa's life. She was recognized as a speech writer and an upbeat story teller who moved the audiences from laughter to tears in a short period of time creating a lasting impact.
Upon return to Oregon, Teresa was encouraged by her success as a writer and a public speaker and decided to explore professional opportunities in the field of media. She pursued an internship in the Portland Monthly magazine as a writer and also interned in a local TV station where she got exposed to different facets of TV news reporting. To improve her multi media communication skills Teresa took journalism and writing classes at the Portland Community College. One of her professors was a graduate from Columbia University of New York school of Journalism Master's Program. He encouraged Teresa to apply to Columbia. She did apply and wrote several essays….one of them was about her life, her brother, her mother and none other that the EGGS.
Teresa graduated Columbia Journalism School in 2012 with a master's in digital media. She is working video journalist and multimedia producer. Learn more about Teresa at teresamahoney.com.