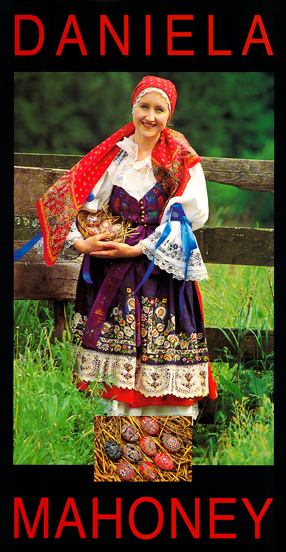 Born in Prague, Czech Republic, Daniela Sipkova first experienced traditional egg decorating as a child during Easter. Under the guidance of her grandmother she learned the basic wax resistant technique and practiced the craft as a seasonal hobby during her childhood and adolescence.
As a young adult, she studied foreign languages and international business in Prague, hoping to work for the foreign services of the Czechoslovak Communist government. After Daniela's uncle and aunt escaped to Switzerland as political refugees however, she was unable to pass the required political clearance for a government job and started working as a receptionist in a hotel in downtown Prague.
In 1980 Daniela and her mother fled Czechoslovakia and settled in West Germany. Since Daniela spoke five foreign languages, she worked as a freelance translator and interpreter. In 1982, while working in an automotive trade show as an interpreter in Frankfurt, Germany, she met Patrick Mahoney, who was seeking merchandise for his auto parts stores in Portland, Oregon. He not only found new products for his stores, but also a wife. They have been married since spring of 1983.
In the United States Daniela returned to traditional egg decorating at Easter time as a hobby and soon developed the craft into a full time business. Since 1982 Daniela participated in hundreds of art shows, craft shows and ethnic festivals nationwide. She also developed educational programs to teach cultural crafts as part of the Czech and Slovak heritage preservation in community based settings. She became a resident artist for Young Audiences of Oregon and Washington and the Regional Arts & Culture Council in Portland, Oregon. Daniela is known for organizing large scale egg decorating events for children, such as "1000 eggs with 1000 children in four hours"…..
Daniela has also published several children's coloring and activity books.
Daniela's daughter Teresa followed in her mother's footsteps teaching egg decorating in schools and libraries. Teresa graduated Columbia Journalism School in 2012 with a master's in digital media. She is working video journalist and multimedia producer. Learn more about Teresa at teresamahoney.com.
Daniela's son, Patrick, although autistic, also learned how to decorate eggs. Teresa and Patrick represent the fourth generation of this remarkable family, devoted to preserving and sharing a dynamic folk tradition.
Daniela originally used the wax resistant method of egg decorating, but since 1987 has been using the engraving technique. Over time shegravitated from traditional designs inspired by the Czech and Slovak traditions to novelty designs, such as bridges, lighthouses and even the Statue of Liberty. Her egg ornaments are sold nationwide in museums, galleries and specialty gift stores.
As a highlight of her artistic career, Daniela was invited to demonstrate egg decorating at Ellis Island Museum Giftstore in November of 2011. As she traveled on a ferry from New York Harbor to Ellis Island with two large suitcases full of egg ornaments on a cold, windy November day, she thought with compassion of the millions of immigrants who had to endure tremendous hardships crossing the rough waters of the Atlantic ocean to embrace freedom and to start their new lives in the United States.
Since in the old mythology the egg symbolizes new life, it became a perfect medium of choice for Daniela to showcase her artistic talents when starting her new life in the United States. The egg became not only a canvas for expressing her feelings through art and her desire to reconnect with her homeland's traditions, but it also became a bridge to self realization and economic prosperity in a new country.
Engraving the image of the Statue of Liberty on an egg was a culmination point of Daniela's artistic journey. She has built a bridge between old traditions and the New World. She was able to pursue a successful career as a folk artist by using her creativity to develop innovative designs in response to demands of the craft market.
Daniela stated that since spring of 1983 she decorated about 84,000 egg ornaments (an average of ten per day). If stacked in dozen size cartons, they would form "Daniela's tower of Freedom", about 1,750 feet tall, more than eleven times the size of the Statue of Liberty.
Daniela holds two degrees from Portland State University: an undergraduate degree in Marketing and a graduate degree in Social Work (MSW) and currently works in the field of Geriatric Social Work.